---
---
---
Message from Monroe County Schools
This week's tragic events in Parkland, Florida have been traumatic for students, staff, parents, and for every citizen across our nation. We are all hurting right now. Our thoughts and prayers are with Broward County and all who have been affected by this horrible event. This type of tragedy in another school setting in our country is alarming and elicits questions and concerns for our children here in Monroe County Schools. As we work as a nation, as a state, and as a community to heal and move forward, it is important for everyone to know safety and security of the students and staff in our school system is a paramount concern for the Board of Education and the Administration in Monroe County Schools.
Our schools and system have comprehensive safety plans in place that address safety measures and the different safety drills that help staff and students communicate and respond safely in the event of an emergency. Our school system has a wonderful working relationship with local law enforcement and emergency response agencies in our county. Communication and review of safety protocols with our partners are ongoing throughout the year. We actually have full time School Resource Officers who are also certified Monroe County Sheriff's Deputies that serve our schools every day. Their presence is appreciated and helps keep our students and schools safe. Our system has been proactive with safety upgrades in our buildings and will continue to be proactive in our approach to safety as we move forward. Our employees and students participate in safety training each year to help ensure our schools and classrooms are a safe and enriching environment for everyone.
We believe we have the necessary and reasonable safeguards in place to maintain secure, orderly, and nurturing learning environments. We will continue to be diligent to ensure their safety and security needs while trying to maintain a balance which is not overly restrictive so that our students can enjoy a healthy, productive environment in which they can learn and grow without feeling threatened. We love the students we serve each day, and we will do everything within our power to keep them safe from harm or danger. We truly thank you for allowing us to be a part of your child's education.
Dr. Mike Hickman
Superintendent
---
All Schools in Monroe County Achieve "Beating the Odds" Status
Monroe County Schools is proud to announce that all schools in the district have achieved "Beating the Odds" status from the Georgia Department of Education (GADOE) and Georgia Office of Student Achievement (GOSA). Congratulations to the students, staff, school and system leaders, and parents of the following schools on this outstanding accomplishment:
Mary Persons High School (including Monroe County Achievement Center)
Monroe County Middle School
Thomas G. Scott Elementary School
Samuel E. Hubbard Elementary School
Katherine B. Sutton Elementary School
Beating the Odds is a statistical analysis that compares a school's actual performance on the College and Career Ready Performance Index (CCRPI) with the performance of schools with similar characteristics across the state. Schools that perform higher than similar schools are considered "Beating the Odds." It is important to note that schools that "Beat the Odds" may still have low CCRPI scores and/or gaps in performance. Each year, between 40-49% of schools will "Beat the Odds" regardless of statewide performance changes from the prior year because the analysis compares all schools' performance within the same school year.
The following school characteristics are included in the calculation:
Percentage of economically disadvantaged students,

Percentage of English language learners,

Percentage of students with disabilities,

Percentage of students in each race/ethnicity,

School size,

Student mobility, and

School type (Elementary, Middle, High, and schools that span grade clusters).
"We are extremely proud of the dedication and hard work of our teachers, support staff, and school and system leaders. The planning and premeditation by all staff members for student success is paying off in a huge way. We are also very proud of our students and their continued commitment to maximizing their individual learning potential. Everyone is doing an awesome job to support teaching and learning in our school district." said Superintendent Dr. Mike Hickman.
This news comes on the heels of the release of CCRPI scores for the 2016-2017 school year. All schools in Monroe County showed growth from the 2015-2016 school year and the system CCRPI average climbed to 82.4 in 16-17 from 75.5 in 15-16.
A complete listing of "Beating the Odds" school and system data can be found on the GOSA website at https://gosa.georgia.gov/beating-odds-analysis.
---
Monroe County Schools recently completed the five year accreditation process through the Georgia Accrediting Commission (GAC). All of the schools were awarded the highest possible rating, "Accredited with Quality." Assistant Superintendent Alicia Elder stated, "We want to thank everyone for their hard work in preparing for our district's five-year site visit by the Georgia Accrediting Commission. All of our schools were awarded the highest rating--"Accredited with Quality" after a two-day visit by GAC consultant, Dr. Eldridge H. Harris. Dr. Harris thoroughly enjoyed visiting each building and spending time with staff. Dr. Harris was very complimentary of our facilities, the level of instruction observed, and the demeanor of our students and staff. We appreciate attention to detail to ensure all of the standards continue to be met for the betterment of our students, staff, and stakeholders."
---
---
Georgia Department of Education Releases 2016-2017 College and Career Readiness (CCRPI) Scores
---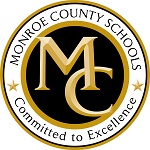 The Georgia Parent Survey contains 24 questions. Parents may complete the survey using their personal computer, smartphone or tablet. Parents are encouraged to participate in the Georgia Parent Survey. Data will be used as part of calculation of the School Climate Star Rating. Survey responses are anonymous and will be submitted directly to the Georgia Department of Education for analysis. The Georgia Parent Survey is also available in Spanish. Parents may select the Spanish version within the survey.
Georgia Parent Survey: http://gshs.gadoe.org/parents
---
Welcome to the Monroe County School System, a dynamic school system located in the heart of Georgia near both Macon and Atlanta. Our system is known throughout the state for its tradition of educational excellence for all students.
We "Honor the Past while Creating the Future," and we look to add to this tradition with a "Commitment to Excellence" in everything we do.
---
Our Vision
Monroe County Schools will be recognized for developing students with the knowledge and skills necessary to be successful in a global environment.

Our Mission
The mission of Monroe County Schools is to motivate and inspire a passion for learning so all students learn, grow, and succeed.
---
---