Mary Persons High School announces the 2022 four-year graduation cohort rate. The rate rose to 92.8%, the highest recorded rate in Mary Persons' history. The previous year's local graduation rate was 91.0%.
"The graduation rate for the 2021-2022 school year is truly a culmination of collaborative efforts from an informed BOE, dedicated and talented Pre-K-12 teachers, effective administrators and support personnel, engaged parents and community members, and motivated and inspired students. This is truly great work by all stakeholder groups," stated Superintendent Dr. Mike Hickman. "Our entire staff and community have done an outstanding job getting students ready for post-secondary education, the world of work, and military service."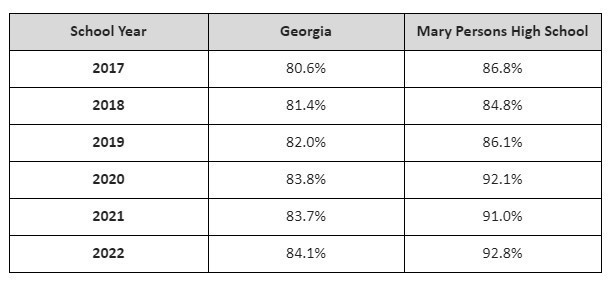 Georgia's high-school graduation rate increased in 2022, rising to 84.1% – an all-time high since the state began using the adjusted cohort calculation now required by federal law, and up from 83.7% in 2021. Georgia's graduation rate has increased by 14.4 percentage points since 2012.
Georgia calculates a four-year adjusted cohort graduation rate as required by federal law. This rate is the number of students who graduate in four years with a regular high school diploma divided by the number of students who form the adjusted cohort for the graduating class. From the beginning of ninth grade, students who are entering that grade for the first time form a cohort that is subsequently "adjusted" by adding any students who transfer into the cohort over the next three years, and subtracting any students who transfer out.
While all states use the same calculation, each state sets its own requirements for students to earn a regular high school diploma. Georgia has some of the highest requirements in the nation for students to graduate with a regular diploma.
"I am thrilled with our 92.8% graduation rate which is the highest in the history of MPHS. This is a tremendous accomplishment for our community and speaks to the dedication and commitment of our teachers, staff, and students," said Tammy Marion, principal at Mary Persons High School. "We acknowledge this rate would not be possible without the continuous efforts of all stakeholders K-12! Congratulations to all on a job well done!"